We'd like to say a huge thank you to our clients for their kind words. It's a pleasure to work with all of you and your dogs. Below are testimonials from some of our clients.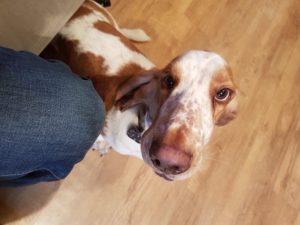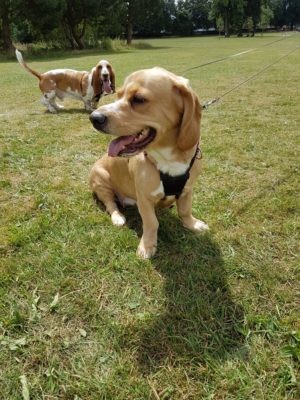 Marle and Phoebe
Anthony has been wonderful from my first contact with him. Insisting he met the dogs early on, he met them with confidence and wasn't at all intimidated by their rather loud mouths. He learned our routine quickly and before long he began working his magic on the two hounds. Being a busy household, the dog training was a bit of a mess. After a few weeks of having Anthony visiting them, we noticed a huge difference in the behaviours of both dogs. They were listening to basic commands and being patient whilst waiting for their food which was astonishing. This quickly progressed to both dogs being eager to learn more and has allowed us to truly enjoy them. We gained a trust in Anthony that we couldn't have predicted. He quickly became our go-to when exploring health concerns with the dogs, and not once has he expressed anything less than extreme compassion, even coming to our home at all sorts of out-of-hours to calm us down. Our Bassett hound would have gone down fast was a case of bloat had it not been for Anthony's advice to seek medical attention when we did. Our other pu has damaged her spine recently and though we did seek professional help quickly, Anthony adapted his visits and cared for her in ways I couldn't have expected. I truly will never have enough ways to thank him. She is now recovering well and Anthony has offered his services yet again, to care for her whilst we are away on holiday. This eases our anxieties as a family a great deal as the travel alone would have set us back in her recovery. He loves our hounds no less than he loves his own beautiful pubs and he's changed at home lives immensely by working with the dogs, making them a pleasure to own and enjoy and we are eternally grateful. He's a natural and working with our canine companions is his true calling. A trustworthy, reliable and honest man, we hit the jackpot finding him. Thank you Anthony, for everything. Sam, Marle and Phoebe's owner.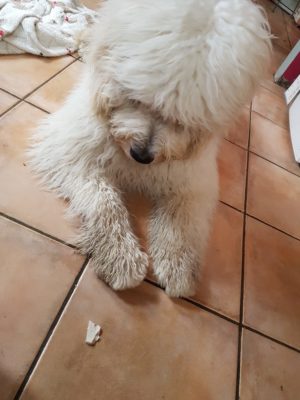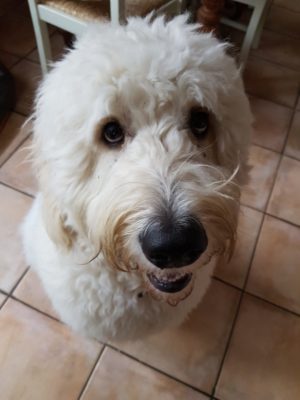 Ted
It is with great confidence that I recommend Anthony. He is a dedicated professional and is truly a dog's best friend. Anthony guided me through the training of my beloved Goldendoodle Ted. He not only trained Ted successfully, he taught me how to train and understand my boy! Anthony has opened my eyes to the intelligence of dogs, and has trained my dog with love and in a way that was enjoyable for all. Lucie, Ted's owner.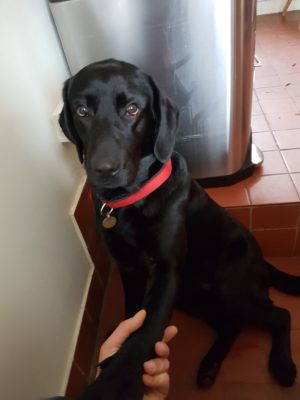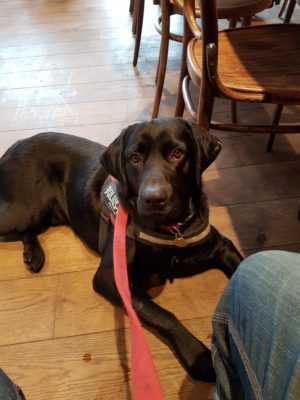 Leo
Anthony has been a true ''dog whisperer'' with Leo, and very large Labrador, which we rehomed. Leo joined us having been given up by his previous owners as they had not realised how boisterous a year old Lab can be. We had Leo for 3 days and then had to go abroad, so Anthony became he surrogate family. When we handed over Leo he had only been off the lead twice in his life, both times at the weekend, and he was an unknown quantity. Anthony took him on with a big smile and after 10 days handed him back a reformed dog! We continue to be amazed at the progress Leo makes with our weekly session with Anthony. He always asks what we want to work on and does that with a huge generosity of spirit and sharing his knowledge and teaching us skills, so we can understand Leo better. Leo has recently become more difficult as he reaches manhood and Anthony has been so reassuring with so much advice on how to get over this hump! He also reassures is that if we are consistent and follow his advice we can help Leo become the lovely dog he can be 100% of the time, rather than the 80% of the time at the moment. I cannot recommend Anthony highly enough and wish we had met him before to help with our previous dogs. Patrick and Jane, Leo's owners.